"Techiniques of Indian Miniature Paintings" Ramu Ramdev's Workshops are usually full house events, be it at The City Palace of Jaipur or The Bhavan Centre London.
Ramu Ramdev have been doing research on "Great Indian Yellow (Goguli) for many years, and he has worked with Art Institute of Chicago on the same project.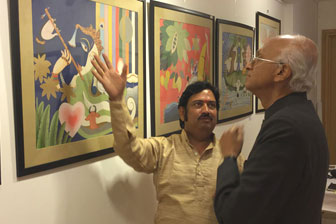 H.E. Mr. Ranjan Mathai, Indian High Commissioner in UK visited Ramu Ramdev's Exhibition at The Bhavan Centre London.
Teaching Meditation Techniques
Learn Indian Miniature Paintings with Ramu Ramdev